Annual Invitational Parade Entries
Are you interested in being in this year's parade? Here is how you can participate: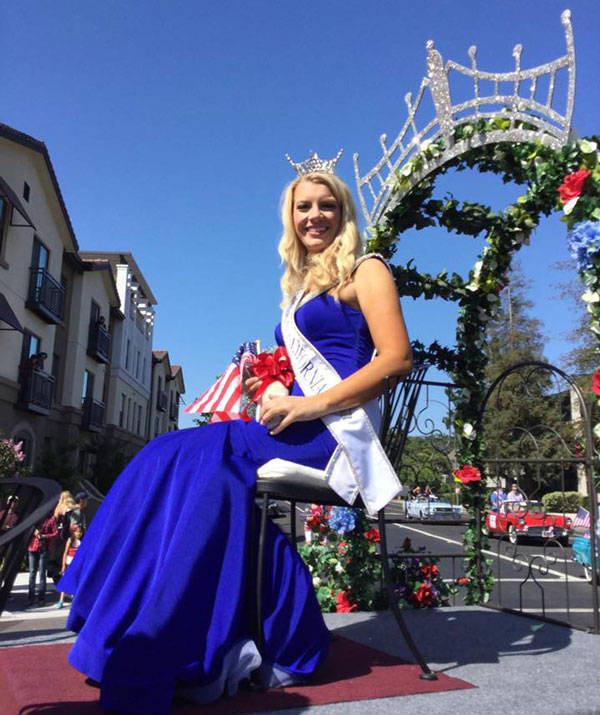 Miss California Jillian Grace Smith at the 2016 parade.
Contact us between January and May.
Attend a parade workshop.
Fill out the Parade Questionnaire or contact the association at info@parade.org or 650/365-1825 to request a questionnaire be mailed to you.
Send it via email to: entries@parade.org
or mail to:
463 Brewster Street, Suite 4
Redwood City, CA 94063
Entries are by Invitation only. The Parade Entries Committee will decide if your submission fits the criteria for our parade. If your entry is selected, we will send you an official Parade Application.
Complete the official Parade Application.
If you are entering a float, get important information that you will need to enter a float.
Return the application to the association via mail.
To be chosen you must be entertaining! You must be something that people would not see any day on the street. Also, you must be capable of moving down the street at about 2 miles/hour for almost two miles. Entries that promote political, religious, social, economic or personal agendas will not be accepted.
If you are interested, please attend a parade workshop. This workshop is designed to help put together a great entry, and have fun doing it. They are open to the public, and you are not obligated to enter the parade by attending the workshop.
Our Sponsors